On the 18th World Day of the Sick observed each year on the feast of Our Lady of Lourdes the Pope Benedict sends to the world a message. The Pope draws my attention, and perhaps yours, to the fact that Jesus tells us to do what He has done: be an instrument of healing by allowing divine grace to actually work. To "go and do likewise" is the reason why priests reconcile sinners, strengthen the sick through the sacrament of the sick, to "go and do likewise" is why Sr Mary Ellen Genova visits the sick weekly bring the Gospel and the Eucharist to those who can't come to church, to "go and do likewise" is why Fr Jordan Kelly and the NY Dominican Friars have a healthcare ministry at 4 of the world's prestigious hospitals, to "go and do likewise" is doing what Jesus did when we had the anointing of the sick for breast cancer survivors on the feast of Saint Agatha on February 5th, and to "go and do likewise" is why Fr Thomas Berg and the Westchester Institute works on healthcare ethics. There is no end to what we do in order to follow Christ more closely, focusing not on ourselves but on God the Father asking for the grace to deal directly with illness and suffering in a graced-filled manner.
I extracted three paragraphs from the 2010 message for our consideration here today. The points emphasized are what I think the crucial elements of the papal message to be used for prayer and consideration.
At the end of the parable, Jesus said: "Go and do likewise" (Lk 10: 37). With these words he is also addressing us. Jesus exhorts us to bend over the physical and mental wounds of so many of our brothers and sisters whom we meet on the highways of the world. He helps us to understand that with God's grace, accepted and lived out in our daily life, the experience of sickness and suffering can become a school of hope. In truth, as I said in the Encyclical Spe salvi, "It is not by sidestepping or fleeing from suffering that we are healed, but rather by our capacity for accepting it, maturing through it and finding meaning through union with Christ, who suffered with infinite love" (n. 37).
The Second Ecumenical Vatican Council had already recalled the Church's important task of caring for human suffering. In the Dogmatic Constitution Lumen gentium we read that "Christ was sent by the Father "to bring good news to the poor... to heal the contrite of heart' (Lk 4: 18), "to seek and to save what was lost' (Lk 19: 10).... Similarly, the Church encompasses with her love all those who are afflicted by human misery and she recognizes in those who are poor and who suffer, the image of her poor and suffering Founder. She does all in her power to relieve their need and in them she strives to serve Christ" (n. 8). The ecclesial community's humanitarian and spiritual action for the sick and the suffering has been expressed down the centuries in many forms and health-care structures, also of an institutional character. I would like here to recall those directly managed by the dioceses and those born from the generosity of various religious Institutes. It is a precious "patrimony" that corresponds with the fact that "love... needs to be organized if it is to be an ordered service to the community" (Encyclical Deus caritas est, n. 20). The creation of the Pontifical Council for Health-Care Workers 25 years ago complies with the Church's solicitude for the world of health care. And I am anxious to add that at this moment in history and culture we are feeling even more acutely the need for an attentive and far-reaching ecclesial presence beside the sick, as well as a presence in society that can effectively pass on the Gospel values that safeguard human life in all its phases, from its conception to its natural end.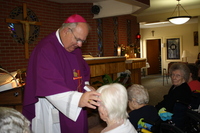 In this Year for Priests, my thoughts turn in particular to you, dear priests, "ministers of the sick", signs and instruments of Christ's compassion who must reach out to every person marked by suffering. I ask you, dear presbyters, to spare no effort in giving them care and comfort. Time spent beside those who are put to the test may bear fruits of grace for all the other dimensions of pastoral care. Lastly I address you, dear sick people and I ask you to pray and to offer your suffering up for priests, so that they may continue to be faithful to their vocation and that their ministry may be rich in spiritual fruits for the benefit of the whole Church.
Our Lady of Lourdes, pray for us.
Saint Richard Pampuri, pray for us.