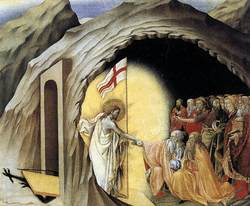 LET me tell you right now,
No one suffered more on Good Friday
And deserves a rest today
Than the King of the Jews-
And right now he's in hell.
He descended into hell
Where he is right now.
And right now he is being himself,
He's being his God-from-heaven-descended self,
And I'll bet you that it's a real blast in hell
With him there
And I'll bet he's in there
And having a ball.
He's redeeming hell
By his sky-high dream-drawn scheme
Of simply being himself
And accepting selves' selves
And offering himself to God-on-high for them.