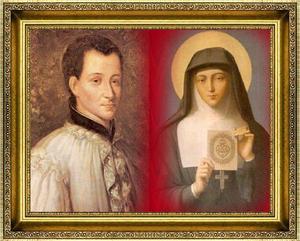 A pivotal saint for our time is the Jesuit Father Claude la Colombière (1641-82) known mostly for being spiritual director of Saint Margaret Mary. He died on the First Sunday of Lent.
Saint Claude was a great believer in Divine Providence, Love and Mercy as revealed by Christ Himself and pledged himself to this mission. Both of these saints were instrumental in the devotion to the Sacred Heart of Jesus. Father Claude was devoted to working with the poor.
It is said that the day after his death, Saint Margaret Mary received supernatural assurance that Father Claude needed no prayers, as he was in already heaven.
Pope John Paul II, during the canonization of Saint Claude said,
The past three centuries allow us to evaluate the importance of the message which was entrusted to Claude. In a period of contrasts between the fervor of some and the indifference or impiety of many, here is a devotion centered on the humility of Christ, on his presence, on his love of mercy and on forgiveness. Devotion to the Heart of Christ would be a source of balance and spiritual strengthening for Christian communities so often faced with increasing unbelief over the coming centuries.