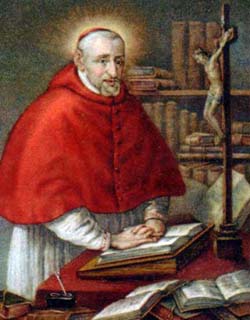 Today's saint is special to me for many personal reasons, one of which is the fact that he gave himself to the Lord for his total and unreserved use. One can claim to like Bellarmine for his intellect, or the way he worked with controversial Catholic preachers and theologians and Protestants, or with Galileo, or his service to several popes, but what about his capacity to love the Lord and his neighbor, and what about his ability to know his limitations and his gifts, or his capacity to live the Beatitudes?
Each time I am in Rome I make a path to St Ignatius's Church where Bellarmine is buried in the third chapel on the right as you face the main altar, near to his dear friend, Saint Aloyius Gonzaga, to pray for several intentions, among them are: theologians, the pope, the Jesuits, +Avery Robert Dulles and of course, myself.
The Roman Martyrology (2005) has this entry for Robert Bellarmine (1542-1621):
The feast of St. Robert Bellarmine, from the Society of Jesus, Doctor of the Church and bishop, who was outstanding at arguing the theological controversies of his day. He resigned his red hat, then gave himself wholeheartedly both to pastoral ministry in Capua, with great success, and took up very many challenges in defense of the doctrine of the faith at the Holy See in Rome.