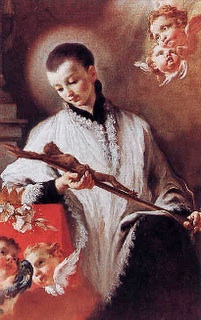 Who shall climb God's holy mountain?
Stand within his holy place?
Those whose hearts are pure and lowly,
Free of guile and full of grace!
On this day, O Lord, we thank you
For your servant's selfless life
Which he offered you with gladness,
Leaving wealth and earthly strife.

Aloysius, born as gentry,
Heard from youth your gentle call,
And, renouncing rank and riches,
Followed you and gave his all.
In the service of those sickened
By the plague, he spent himself,
Thus exhausting earthly body,
Storing up the one true wealth.


Trinity of endless mercy,
Father, Son, and Spirit blest,
With your servant Aloysius
And the host of saints at rest,
We sing forth our song of gladness
For your saints, your works of grace;
Lead us on in humble service
Till we see you face to face!

J. Michael Thompson
Copyright © 2010, World Library Publications
87 87 D, HOLY MANNA, AUSTRIA