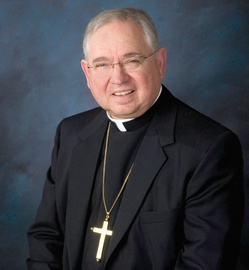 On 25 October 2011, Los Angelus Archbishop José H. Gomez, STD, 60, spoke on the slow loss of America's first freedom. On March 1, 2011, Archbishop Gomez became the Archbishop of Los Angelus, after being the Archbishop of San Antonio; he's been a bishop for nearly 11 years. A stellar article follows:
There is much evidence to suggest that our society no longer values the public role of religion or recognizes the importance of religious freedom as a basic right. As scholars like Harvard's Mary Ann Glendon and Michael Sandel have observed, our courts and government agencies increasingly treat the right to hold and express religious beliefs as only one of many private lifestyle options. And, they observe, this right is often "trumped" in the face of challenges from competing rights or interests deemed to be more important.
These are among the reasons the U.S. Catholic bishops recently established a new Ad Hoc Committee for Religious Liberty. My brother bishops and I are deeply concerned that believers' liberties--and the Church's freedom to carry out her mission--are threatened today, as they never have been before in our country's history.
Catholics have always believed that we serve our country best as citizens when we are trying to be totally faithful to the teachings of Jesus Christ and his Church. And since before the founding of the American Republic, Catholics--individually and institutionally--have worked with government agencies at all levels to provide vital social services, education, and health care.