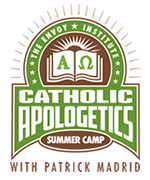 The 4th Annual
Catholic Apologetics Camp
is planned for the summer of 2013,
August 8-14
. The Envoy Institute under the direction of
Patrick Madrid
, is doing the programing.
Knowing your faith, knowing the person at the center of your faith, Jesus Christ, is SO VERY crucial at every stage of life, including the time you spend at college. We need to form and inform the next generation of Catholics to propose the truth and beauty of the Faith! Make a suggestion to a senior in high school to participate in Apologetics Camp.