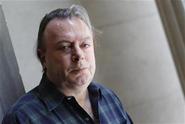 The widely known public atheist
Christopher Hitchens
, 62, died from complications of pneumonia and cancer of the esophagus. He was Oxford educated and the author of several books who worked as a new correspondent and literary critic.
There's a YouTube 2008 presentation of an interview between Christopher Hitchens and Monsignor Lorenzo Albacete that I recommend. They are here:
Video
(you and access the video clips by looking at the index).
May God be good to him. (I can say this because I believe in God even if Christopher didn't.)