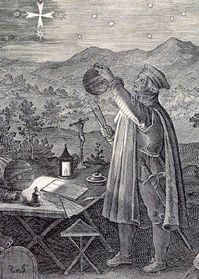 Cybertheology is not one of the sub-sections of systematic theology. At least not yet. But it is a promising idea that will likely have a positive influence in the lives of those who surf the web religiously and for those searching for God and who are not ready (willing?) to be personally involved in the Sunday celebration of the Mass or any other organized religious program that requires one to be physically present.
The originator of the Cybertheology project, Jesuit Father Antonio Spadaro, one of the editors at
La Civiltà Cattolica
, started a blog to investigate the new, dynamic and complex influence of the Net and the challenages it poses to our relationships with others, language, thinking and the Divinity. I take Father Spadaro's interest and work in this subject on the impact of the digital world to be wholly consistent with what Pope Benedict talked about in his
January 2011 letter on social communications
where he said "new technologies must be placed at the service of the integral good of the individual and of the whole of humanity. If used wisely, they can contribute to the satisfaction of the desire for meaning, truth and unity which remain the most profound aspirations of each human being." And, "This dynamic [the digital world] has contributed to a new appreciation of communication itself, which is seen first of all as dialogue, exchange, solidarity and creation of positive relations."