The first Wednesday General Audience of Pope Francis was delivered today. Indeed, Pope Francis is moving us away from the narcissism in which we find ourselves, either personally, or as a Church. The Pope's text follows, and Vatican Radio's carrying of the English portion of the address.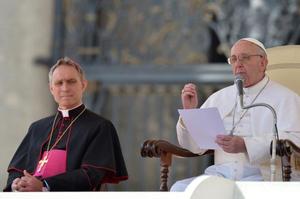 I am pleased to welcome you to my first general audience. With deep gratitude and veneration I am taking up the "witness" from the hands of my beloved predecessor, Benedict XVI. After Easter we will resume the catechesis on the Year of Faith. Today I would like to focus a little on Holy Week. With Palm Sunday we began this week - the center of the whole liturgical year - in which we accompany Jesus in His Passion, Death and Resurrection.
But what does it mean for us to live Holy Week? What does it means to follow Jesus on His way to the Cross on Calvary and the Resurrection? In His earthly mission, Jesus walked the streets of the Holy Land; He called twelve simple people to remain with Him, to share His journey and continue His mission; He chose them among the people full of faith in the promises of God. He spoke to everyone, without distinction, to the great and the lowly; to the rich young man and the poor widow, the powerful and the weak; He brought the mercy and forgiveness of God to all; He healed, comforted, understood, gave hope, He led all to the presence of God, who is interested in every man and woman, like a good father and a good mother is interested in each child. God did not wait for us to go to Him, but He moved towards us, without calculation, without measures. This is how God is: He is always the first, He moves towards us. Jesus lived the daily realities of most ordinary people: He was moved by the crowd that seemed like a flock without a shepherd, and He cried in front of the suffering of Martha and Mary on the death of their brother Lazarus; He called a tax collector to be His disciple and also suffered the betrayal of a friend. In Christ, God has given us the assurance that He is with us, in our midst. "Foxes", Jesus said, "have dens and birds of the sky have nests, but the Son of Man has nowhere to rest His head" (Mt 8:20). Jesus did not have a home because His house is the people -- that is, us; His mission is to open all God's doors, to be the loving presence of God.