In this Year of Faith there are some new books that have arrived and that are coming out to help all of us discover anew the the beauty of the Christian Faith. No one can ever say that they know it all, or, have heard it all before, and at the same maintain credibility in knowing the Truth. It's not possible.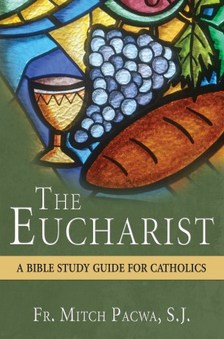 Father Mitch Pacwa, SJ, theologian and EWTN host, is in the middle of a publishing campaign to help us respond with confidence to the proposals of the Year of Faith.
Father Pacwa is a Chicago native who earned his undergraduate degree from the University of Detroit, a Masters from the Jesuit School of Theology (Chicago) before being ordained a priest in 1976. He also earned a PhD from Vanderbilt in Old Testament studies which included learning 12 languages. Father Pacwa offers the Mass in both the Latin and Maronite Churches. He is the president of
Ignatius Productions
.
The Eucharist is published in order to draw connections between the Holy Eucharist and the Bible. The author looks at Old Testament types of the Eucharist, shows the centrality of the Eucharist in Christian life, what Eucharistic Presence means to call Jesus the Lamb of God, the meaning of sacrifice as applied to the Sacrifice of the Mass and more.