Pope Benedict gave the following teaching on beauty --a subject near to his heart-- on August 31. Some of the paragraphs are here (the entire address is here). Isn't what the Pope says true???? The beautiful expressed in food, music, art, architecture, the human body, the poerty and friendship is the extroversion of the Holy Spirit.
Today, I would like to consider briefly one of these channels that can lead us to God and also be helpful in our encounter with Him: It is the way of artistic expression, part of that "via pulchritudinis" -- "way of beauty" -- which I have spoken about on many occasions, and which modern man should recover in its most profound meaning.
Perhaps it has happened to you at one time or another -- before a sculpture, a painting, a few verses of poetry or a piece of music -- to have experienced deep emotion, a sense of joy, to have perceived clearly, that is, that before you there stood not only matter -- a piece of marble or bronze, a painted canvas, an ensemble of letters or a combination of sounds -- but something far greater, something that "speaks," something capable of touching the heart, of communicating a message, of elevating the soul.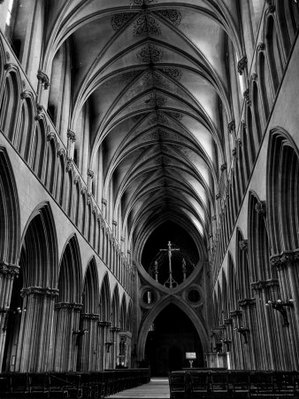 A work of art is the fruit of the creative capacity of the human person who stands in wonder before the visible reality, who seeks to discover the depths of its meaning and to communicate it through the language of forms, colors and sounds. Art is capable of expressing, and of making visible, man's need to go beyond what he sees; it reveals his thirst and his search for the infinite. Indeed, it is like a door opened to the infinite, [opened] to a beauty and a truth beyond the every day. And a work of art can open the eyes of the mind and heart, urging us upward.