My friend Michel wrote to tell me that Sofia Cavalleti last evening. You may remember that a few days ago I asked you to include Sofia in your prayers. This past Sunday, Sofia celebrated her 94th birthday. I once again recommend to you the soul of Sofia Cavalletti to the Lord, the Good Shepherd of our souls.
The following is the message sent out by the Catechesis of the Good Shepherd USA board: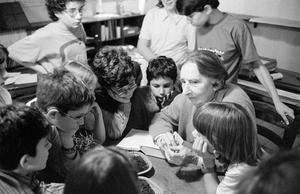 With tears and with peace, we want to share with you that our beloved Sofia Cavalletti, at 94, a founding mother of the Catechesis of the Good Shepherd, has entered the celestial pasture of the Good Shepherd. There is great rejoicing in heaven for her with Gianna, Tilde, Fr. Mongillo, Maria Christleib and Tina, along with members of her family who have gone before her.
Francesca Cocchini sent the following announcement from Rome, Italy: "Dearest, this is only to say that during this night - at ten after midnight (Tuesday, August 23) Sofia encountered the Good Shepherd face to face." The funeral Mass will be on Wednesday, August 24.