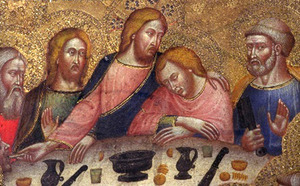 There is an interesting concept introduced in ecclesial document that has caused me to pause to consider: eucharistic coherence. In reflecting upon its meaning and application, it is also connected with the theological concept of communio, said to have derived from Trinitarian theology. Communio is used in all areas of Catholic life: how we know and live in the Church, our sacramental life, our life with each other, and our hope in salvation.
Today, more than ever we need to have an intelligent understanding of eucharistic coherence. One such place for me is looking at the experience when members of the Church are in disagree, privately and publicly with what is revealed in sacred Scripture and taught by and lived in the Church. There are many examples that come to mind. I write this reflection knowing full well that my own conversion is ongoing, that I am not a perfect witness to the Gospel of Jesus Christ and that I need to live more coherently not because of a moralism but because I want to be in a better loving relationship with the Lord.
The reception of Holy Communion to Catholics is a contentious issue in the USA. The communio among Catholics is in weakened state by a lack of coherence in belief and practice when comes to who receives Holy Communion. My own assessment is that there is no uniform approach to the thinking and pastoral practice among the bishops in this country and that some bishops have fuzzy approach which has trickled down to the lower clergy and laity who distribute the Eucharistic Lord (i.e., Holy Communion) at Mass. Cardinal Dolan has his approach to the issue, so does Cardinal Wuerl, as Archbishop Nauman as I am sure that the newly appointed Bishop Barber has an idea what practice will be followed in his diocese. We saw in the time when Cardinal Burke was the archbishop of St Louis that he tried to teach with a distinct voice on this subject, and we can look also Cardinal George, Archbishop Gomez and Bishop Finn in the way they connect with other bishops in the USA, or not. In some ways all bishops agree; but in others they differ in how deal with the matter. Cardinal Dolan recently gave Communion to Vice President Joe Biden at Mass at St Patrick's Cathedral. The debates have been unhelpful because the baptized faithful, never mind the distinguishing those who have clerical status, are unclear in personal terms as to what ought to be done. But this can't be said for all: plenty of Catholics in the USA have voiced their opinion when it comes to those who don't adhere to the teachings of the Gospel, and the clear and consistent teaching of the Church. There are 64 million Catholics in the USA and not all of them are aware of the need to be coherent in matters of faith and practice. Receiving the Lord in the Eucharist is not a political choice, it is not a policy, it is not merely a nice thing to do because my grandmother would be disappointed and nor is receiving Communion the right thing to do when you are in mortal sin. Recall what Saint Paul said in his first letter to the Corinthians, "Therefore whoever eats the bread or drinks the cup of the Lord in an unworthy manner, shall be guilty of the body and the blood of the Lord" (1 Cor. 11:27).