People who follow the life of Communion & Liberation meet weekly for what is called the School of Community, a catechetical session which works on a particular idea of Msgr. Giussani's. The catechesis is supposed to make the connection with one's experience and a lofty theological opinion, as much as theological opinions are helpful from time-to-time. This year we are working on volume 2 of Is It Possible to Live This Way: Hope. (This follows on a book we worked on last year by a similar title though the subject then was faith and it is expected that we'll work on volume 3 next year dealing with charity.)
Our group is faithful to coming together for the shared experience of learning the faith and sharing friendship. A great grace indeed.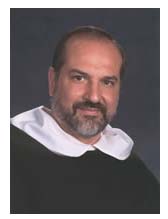 Last evening we had the distinct privilege of welcoming the Master of the
Order of Preachers
, Father Carlos Azpiroz-Costa for 15 minutes to our meeting. Father Carlos is the successor of Saint Dominic de Guzman. He took a personal interest in all of us. He's here in the US doing the work of the Order. Without prompting he mentioned that he's speaking with the Dominicans (and others) about the intimate connection between faith and reason as particularly being Catholic and very needed today. Hence, he's fleshing out the work of Pope John Paul II and now Pope Benedict. Father Carlos was incredibly encouraging of our friendship and work with the local priory of Dominicans in New Haven. May God grant him many blessings!