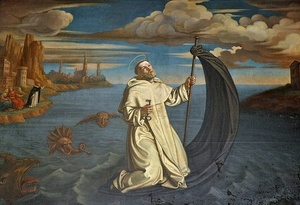 O God, who adorned the Priest Saint Raymond with the virtue of outstanding mercy and compassion for sinners and for captives, grant us, through his intercession, that, released from slavery to sin, we may carry out in freedom of spirit what is pleasing to you.
The wags will say that Saint Raymond is the only certified canon lawyer who is in heaven and that we ought to pray that Saint Raymond to guide other canonists to holiness.
From a letter by Saint Raymond Penyafort
The preacher of God's truth has told us that all who want to live righteously in Christ will suffer persecution. If he spoke the truth and did not lie, the only exception to this general statement is, I think, the person who either neglects, or does not know how, to live temperately, justly and righteously in this world.