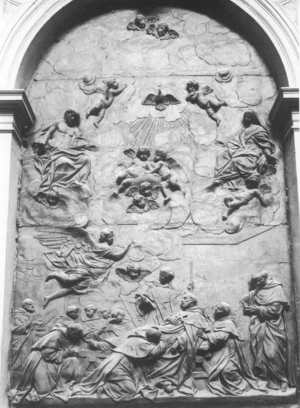 O Light of the Church, teacher of truth, rose of patience, ivory of chastity; you freely pour forth the waters of wisdom, preacher of grace, unite us with the blessed.
(Magnificat antiphon for Vespers; O Lumen)
In Churches administered by the Order of Friars Preachers (the Dominicans) the faithful would have heard the Mass prayers not for Thursday of the Seventh Week of Easter but for the Translation of the Relics of Saint Dominic. That is, the observance of a secondary feast of Saint Dominic.
What is celebrated is not the mere moving of a coffin from one place to another but the recognition by the Church that the person in question has the "odor of sanctity." That is, he or she is infallibly with the Blessed Trinity. The Dominican friars did in fact, move the body of their holy father from a humble place of burial to a more noble one, but this feast really marks an ecclesial event recognizing the sign that Dominic was holy man.
It ought to be noted, however, Dominic was buried as he wished, "under the feet of his brothers. in the Church of Saint Nicholas de Vineis. Known among the faithful to be a blessed man who loved everyone and was in turn loved by all, Dominic asked the Lord to heal people of their infirmities. Miracles happened and were acknowledged by many except for the Dominicans; they in fact destroyed the offerings left as gifts of thanksgiving at the grave of Father Dominic. Pope Gregory IX, on 24 May 1233, sanctioned the moving of the body that happened in the presence of the archbishop of Ravenna, Theodoric and the second Master of the Order Blessed Jordan of Saxony to a new marble tomb during the Dominican's General Chapter held in Bologna. This gesture inaugurated the process of canonizing Dominic which happened on 3 July 1234 by Gregory IX.