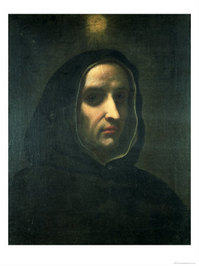 O Lord, teach me your way that I may walk in your truth; direct my heart that I may fear your name. I will give thanks to you with all my heart, O Lord my God, and I will glorify your name forever.
God of eternal beauty, you inspired Fra Angelico as an artist at the service of your truth. May we delight in the beauty of his work and rejoice in the glory of your creation.
Blessed John of Fiesole, known in history as a Blessed Angelico has captured the Catholic and human imagination generations of people through his magnificent painting of the Mystery of Faith and the life of man and woman. He was born in Tuscany c 1386/7 and died in Rome in 1455 at the Priory of Santa Maria sopra Minerva. He was an artist, superior in the Dominicans, promoter of the regular observance of the Dominican way of life and commission by Pope Eugene IV and Pope Nicholas V to decorate rooms in the Vatican and the Basilica of Saint Peter. He is said to have refused the archbishopric offered to him by Pope Eugene deferring to Saint Antoninus. We pray for artists and those who want to live the Dominican way of life with integrity.