Blessed Pope John XXIII said of Saint Martin de Porres: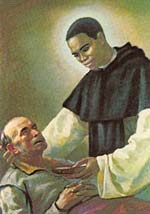 Saint Martin, always obedient and inspired by his divine teacher, dealt with his brothers and with that profound love which comes from pure faith and humility of spirit. He loved men and because he honestly looked on them as God's children and as his own brothers and sisters. Such was his humility that he loved them even more than himself, and considered them to be better and more righteous than he was.

He did not blame others for their shortcomings. Certain that he deserved more severe punishment for his sins than others did, he would overlook their worst offenses. He was tireless in his efforts to reform the criminal, and he would sit up with the sick to bring them comfort. For the poor he would provide food, clothing and medicine. He did all he could to care for poor farmhands, blacks, and mulattoes who were looked down upon as slaves, the dregs of society in their time. Common people responded by calling him, "Martin the charitable."

He excused the faults of others. He forgave the bitterest injuries, convinced that he deserved much severer punishments on account of his own sins. He tried with all his might to redeem the guilty; lovingly he comforted the sick; he provided food, clothing and medicine for the poor; he helped, as best he could, farm laborers and Negroes, as well as mulattoes, who were looked upon at that time as akin to slaves: thus he deserved to be called by the name the people gave him: 'Martin of Charity.'
A good overview of Saint Martin's life can be read here.
O God, the rewarder of the humble, you raised up the blessed confessor Martin to the kingdom of heaven. May his merits and prayers help us to imitate his humility on earth that we may be exalted with him in heaven.