The summer provides us with many notable opportunities to honor some great saints: Benedict, Ignatius, Peter Emyard, Augustine and the Lancaster Martyrs. Today the Church remembers Saint Dominic, a 13th century friar who set the world ablaze in the love of Christ.
On Saint Dominic's deathbed he gave his brothers his last will and testament: "Have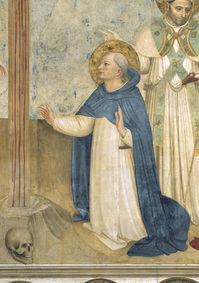 charity, guard humility, hold fast to voluntary poverty." Dominic promised them that he would be of more use to them in heaven than on Earth--a promise I believe he keeps even today but he has a lot of work to do yet. Our beloved father was buried according to his wishes, "under the feet of his brethren." Saint Dominic was canonized in 1234 by Pope Gregory IX.
Following is a letter by Robert Kilwardby, an English friar of the Order of Preachers. He was Oxford educated, a popular teacher, held numerous positions in the Order, was the archbishop of Canterbury, he crowned Edward I as King of England, and he is known to publically oppose the works of his fellow friar, Saint Thomas Aquinas because of his use of Aristotle. This "Letter to Novices" provides an insight into heart of the Order of Preachers and thus into person of Saint Dominic.
Brother Robert, to the novices of the Order of Preachers, beloved in Christ: May you be enlightened by the grace of the sevenfold Spirit through your pursuit of holiness.
Consider your calling and notice its characteristics, so that you may magnify the Lord and exult in God our Savior.
First of all, you should know that, before our Order arose, certain holy people were vouchsafed revelations from God, which we now have in writing, showing that the prayer of the glorious Virgin obtained this Order from her Son, when he was angry at the sins of the world, for the reconciliation of sinners. And it is not unreasonable to believe that it is from her too that the Order's progress and advancement and its guidance and preservation come. This has often been revealed from on high. So let us embrace our state of life all the more carefully, seeing how devotedly we ought to love such a patron, guardian and guide as we have in her, and how keenly we ought to honor her and how humbly we ought to reverence her.
Then you should know that this Order resembles the state of life the apostles, and that which our Savior deigned to display in his earthly life. Of him it is written, "Jesus began to preach and to teach, 'Do penance, for the kingdom of heaven has come close.'" And again: "Jesus went about all the towns round about, teaching.'" Then he also laid his this job upon his disciples, saying, "Go into the world and preach the gospel." And the apostle says, "He has put in us the word of reconciliation," beseeching people for the sake of Christ, "Be reconciled to God." Now what else, I ask you, does the Order of Preachers do, as it goes round so solicitously preaching the gospel and reconciling sinners?
So those who are called by a divine prompting to such a state of life ought rightly to boast in Christ, seeing that they desire to apply themselves to carrying out the very job of Christ himself and his apostles.
But some, who profess other states of life, say, "We too are likewise preachers, just as much as the members of the Order of Preachers." To them we reply, in accordance with the truth, that there are indeed people in other states of life who preach, but they do not do it in the same way. For the friars of the Order of Preachers do it by virtue of the institution of their Order, by virtue of their job which gives them their name; others do it, certainly, but in imitation of them, because they cannot find anything better or more useful that they could do. So what our Order does essentially by virtue of its original institution, others try to do in imitation, incidentally and beside their formal profession. So we, who have been chosen precisely for this purpose, should rejoice that we are right, in virtue of our foundation, what others imitate out of devotion.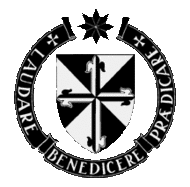 Then you should notice the usefulness of our state of life, my beloved novices. In this, unless I am mistaken, our state of life ought, on any true calculation, to be preferred to all others. For all our Chapters and discussions and debates and all the Order's study aim at nothing else than to prepare people and to make them fit for the salvation of souls, and, when they are prepared and equipped in their way of life and in knowledge, to direct them to the task of converting sinners. So I reckon that no other Order works as hard in its concern for this as ours does, or achieves so much by its work.
Therefore, those who have such a vocation ought rightly to rejoice, since it is well known that at the last judgment the reward is to be meted out in accordance with what a man merits by his useful labor.
In addition to this, please look thoroughly at the special arrangements made in this Order about penance and austerity. The brethren of this Order are not prevented from edifying their neighbors in the fierce cold by the torment of having to go barefooted, nor, on the other hand, do they receive the comfort of going barefooted in the heat of summer. Also when they go out they do not enjoy the luxuries and delicacies of worldly cuisine. We believe that they reason for the first point, in God's plan, is to avoid being prevented in any way from teaching people. The second and third points are to given an example of the austerity involved in salutary penance and of the perseverance in it. The one is necessary of truth is to be made known, the other is give an example of how to live.
Who would not cleave to such a state of life, once he had tasted its savor in his spirit?
If a question arises about poverty, on which many people vaunt themselves, I consider that our state is the one which is truly to be praised. Who would dare deny that the poverty of Christ and his disciples was more perfect than that of any other? Well, we read that most perfectly holy company of Christ and his disciples had purses and carried in them what they were given for their livelihood and brought food for them. We know that the Order of Preachers lives in just the same way, with the addition that they own houses and gardens and schools to hold their teaching in.
At this point some people claim that they possess nothing at all, either in common or individually, they hold no cash or money either in their own persons or through intermediaries, which is a far higher degree of poverty than the one I have been describing, which I said belonged to the company of the apostles. To this we reply that we do not wish nor should we wish to engage in quarrels, so we readily grant that their profession is as they say it is; may they do well in keeping it thoroughly! But it is enough for us in this regard not to go beyond the perfection of that apostolic poverty which Christ taught in the gospel.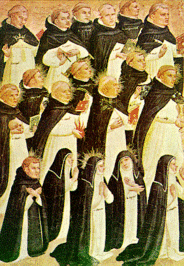 In addition, I would point out that nobody ought to regard himself as superior to the rest because of his material poverty, unless he is conscious of being more poor in spirit than the rest. It does not say, "Blessed are the poor in things," but "Blessed are the poor in spirit." If there are any who regard themselves as better than the rest because of their state of poverty because of this make less of others or reduce them in the eyes of men, then they ought to ask themselves whether they can reasonably be said to possess that poverty of spirit, in which humility resides, without seeking to make itself public, and in which humility resides, without charity too principally resides, which seeks always to commend other people.
And, finally, since neither receiving nor possessing is a vice, nor is non-possession or non-receiving a virtue -it is the use of things which matters: if it is intemperate it is vicious, if it is temperate it is virtuous -what good is it boastfully to regard yourself as better than anyone else just on the strength of not receiving or not possessing anything, as if this constituted a more excellent state, when it is in fact indifferent, as far as vice and virtue are concerned?
So if anyone is to boast, it should be people who reckon that they excel in poverty because of their more sparing and temperate use of things, always provided that they attribute this to Christ and do not wish to be known in order to be praised, nor to be preferred to others in such a way that the others are despised; for it is the case, not only have they not won their reward, but because they have jettisoned humility and charity, they will actually be in a state of sin.
So let Christ's poor receive and possess what is necessary for this mortal life, saving always the apostolic principle, which the Savior and his disciples observed, "Having food and enough clothing to cover them, with this let them be content."
Maybe some wag will say, "Why, then, do you possess books and church furnishings, which are neither food nor clothing"? to this the answer is that the text of the apostle, "Having food, etc," refers to people's bodily life but this objection raises a matter of a person's own spiritual benefit and that of his neighbor. The apostle did not neglect his books. And the primitive church established the principle of the faithful living together and having things in common, the first of which is necessary if the truth is to be preached, the second to give form to charity; for the first, there is no doubt that books are needed, and for the second, where men live together in a common life, church furnishings are needed.
Having said all this, to foster love of our state of life, we must go on to say that we should despise nobody and no state of life; it is profitless to fuss over human statutes and neglect the command of God which bids us love our neighbor as ourselves -on which St. Augustine teaches that "neighbor" must be taken to mean everybody. So let no individual person or state of life be found to be debarred from our love, which we have in God, because in commanding us to love even our enemies, he plainly showed that he wanted no one at all to be excluded from love. So, far from us be all detraction, criticism, insult, gossip or cursing, whether of people or any state of life, far from us be all comparisons at the expense of others. If we hear anyone telling stories of this kind or insinuating criticisms, we should rebuke him and deny him our attention, turning our faces sadly away from him. For, though we are bound by charity to commend our state in accordance with truth, we cannot detract from any other state.
From The Early Dominicans, Paulist Press