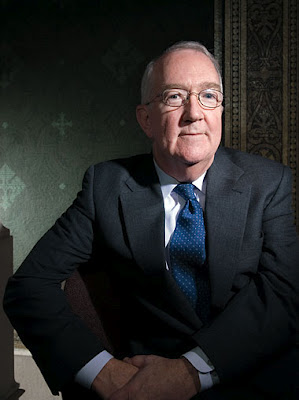 University of Notre Dame
announced today that Ken Hackett, the longtime and recently retired president of the
Catholic Relief Services
, will receive 2012's Laetare Medal. Catholic Relief Services is the Catholic Church in the USA's humanitarian agency. The medal will be awarded on May 20th, the 167th commencement exercise.
ND's president Holy Cross Father John Jenkins said that "Ken Hackett has responded to a Gospel imperative with his entire career. His direction of the Catholic Church's outreach to the hungry, thirsty naked, sick and unsheltered of the world has blended administrative acumen with genuine compassion in a unique and exemplary way."
Mr Hackett was born in West Roxbury, MA (a suburb of Boston), graduated from Boston College, worked with Peace Corps in Africa, and joined CRS in 1972. He was elected president of the same in 1993. Hackett has received numerous awards in previous years.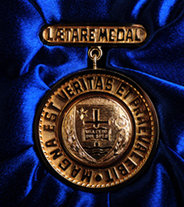 The Laetare Medal awarded by the University of Notre Dame on Laetare Sunday has its origins in 1883. Notre Dame's understanding of the award honors a Catholic "whose genius has ennobled the arts and sciences, illustrated the ideals of the Church and enriched the heritage of humanity." At the time it was given, the Laetare Medal was modeled on the 11th century tradition of a Golden Rose given by the Supreme Pontiffs to shrines of the Blessed Virgin Mary (a tradition maintained by Pope Benedict) and to Catholic Queens. Not too many notable Catholic queens today.
Laetare Sunday is the 4th Sunday of Lent. Rejoice Sunday --Laetare means "to rejoice", the first word of the Introit (the Entrance Antiphon) of the Mass. The priest wears the joyful color of rose to symbolize the joyfulness of entering into this new phase of Lent, taking a respite from the Lenten observances, and picking up new strength to continue to the end of Lent. The Laetare Medal bears the inscription "Magna est veritas et prevalebit" (Truth is mighty, and it shall prevail.)