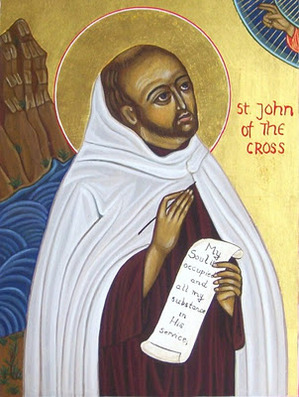 The Church puts on our lips for the feast of John of the Cross which ought to fully orient our life in action:
"May I never boast, except in the Cross of our Lord Jesus Christ, through which the world has been crucified to me, and I to the world" (Gal. 6:14).
Today is the feast of the great Spanish Carmelite priest, mystic, and poet,
Saint John of the Cross
(1542-91). John is also a Doctor of the Church. He's most remembered for his writings and his work with Saint Teresa of Avila for reforming the Carmelite Order.
John of the Cross is widely regarded
as one of the best Spanish poets ever. He's the author of the acclaimed
Spiritual Cantical
,
Dark Night of the Soul
and the
Ascent of Mount Carmel
.
We pray...
O God, who gave the Priest Saint John an outstanding dedication to perfect self-denial and love of he Cross, grant that, by imitating him closely at all times, we may come to contemplate eternally your glory.
My soul is occupied,
And all my substance is His service;
Now I guard no flock,
Nor have I any other employment:
My sole occupation is love.
Spiritual Cantical, 28