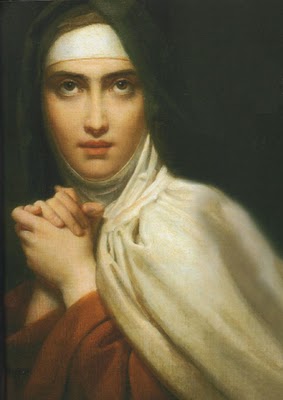 Today, the Church puts on our lips at the entrance antiphon a wonderful psalm verse that captures Saint Teresa of Avila to a "T": As the deer longs for streams of water, so my soul longs for you, O God. My soul thirsts for God, the living God. When can I enter and see the face of God? (Psalm 42: 2-3).
Teresa of Avila is one of my favorite Spanish saints: her intensity is beyond compare, her fidelity is extraordinary. I was searching for something on Saint Teresa and I found the following from our Holy Father. These few paragraphs really capture for me what the Christian life is about, what Teresa was about, what I want to be about. Perhaps what the pope says will orient your thoughts today:
It is far from easy to sum up in a few words Teresa's profound and articulate spirituality. I would like to mention a few essential points. In the first place St Teresa proposes the evangelical virtues as the basis of all Christian and human life and in particular, detachment from possessions, that is, evangelical poverty, and this concerns all of us; love for one another as an essential element of community and social life; humility as love for the truth; determination as a fruit of Christian daring; theological hope, which she describes as the thirst for living water. Then we should not forget the human virtues: affability, truthfulness, modesty, courtesy, cheerfulness, culture.