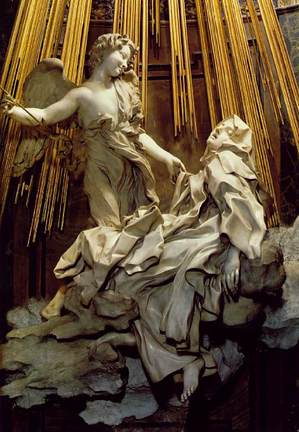 Come, Spouse of Christ, receive the crown which the Lord has prepared for you for all eternity.
Graciously hear us, O God our Savior, that as we rejoice in the festival of blessed Teresa, Your Virgin, so may we be fed by her heavenly teaching and be strengthened in the love of true piety.
This is image of Saint Teresa was done by Bernini and it brings together notable themes of his life and work. Namely, the meeting of heaven and earth; God bowing down to touch the heart of man and woman. Bernini's influence on doing this sculpture was this passage from Saint Teresa's autobiography:
"I saw in his hand a long spear of gold, and at the iron's point there seemed to be a little fire. He appeared to me to be thrusting it at times into my heart, and to pierce my very entrails; when he drew it out, he seemed to draw them out also, and to leave me all on fire with a great love of God. The pain was so great, that it made me moan; and yet so surpassing was the sweetness of this excessive pain, that I could not wish to be rid of it. The soul is satisfied now with nothing less than God. The pain is not bodily, but spiritual; though the body has its share in it. It is a caressing of love so sweet which now takes place between the soul and God, that I pray God of His goodness to make him experience it who may think that I am lying." (The Life of Teresa of Jesus, Chapter 29, part 13)
Recall that this saint's life spanned from 1515-1582 and she was a contemporary with Saint John of the Cross, Saint Ignatius of Loyola and Saint Peter of Alcantara (who encouraged the Carmelite reform) was a spiritual father to her. She is also 1 of 3 women Doctors of the Church. If what you read here appetizing to read more of Saint Teresa's life and work, I would recommend starting with the brief bio at New Advent, the Interior Castle and then or The Collected Works of St. Teresa of Avila.