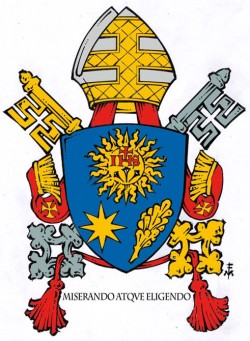 Pope Francis published his first encyclical today. Lumen Fidei ("The Light of Faith"), comes in the middle of the Year of Faith. The Pope told bishops, "It's an encyclical written with four hands, so to speak, because Pope Benedict began writing it and he gave it to me. It's a strong document. I will say in it that I received it and most of the work was done by him and I completed it."
The full text is here: Lumen Fidei.pdf
Pope Benedict set out to write encyclicals on the theological virtues of faith, hope and charity. Two have been done and Lumen Fidei completes the course of study.
Thus Deus Caritas Est on charity in 2005 and Spe Salvi on hope in 2007.
Pope Benedict's, Caritas in Veritate (Charity in Truth), published in 2009 focused on Catholic social teachings of the Church.
Lumen Fidei was presented Cardinal Marc Ouellet, prefect of the Congregation of Bishops, Archbishop Gerhard Ludwig Müller, prefect of the Congregation for the Doctrine of the Faith, and Archbishop Rino Fisichella, president of the Pontifical Council for Promoting the New Evangelization. Their presentation is here in various languages.