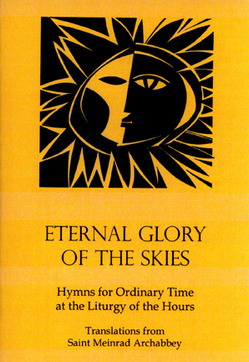 A book of hymns for the Liturgy of the Hours in Ordinary Time, Eternal Glory of the Skies, provides a translation of hymns from the original Latin by Fr. Harry Hagan, OSB, and Fr. Keith McClellan.
Father Harry, a Benedictine monk of Saint Meinrad Archabbey and a teacher of biblical poetry in the Seminary and School of Theology, translated the hymns for Lauds, Daytime Prayer and Compline. Fr. Keith, a priest of the Diocese of Gary, IN, and a former editor and author at Abbey Press in St. Meinrad, translated the hymns.

According to the authors, "These translations build on the poetry of the original text while opening new doors for the Christian imagination. They have been translated in the hope that they will be used in prayer."

The cost of the softcover book is $6.95. Order online.