Today is the beginning of our salvation,
The revelation of the eternal mystery!
The Son of God becomes the Son of the Virgin.
As Gabriel announces the coming of Grace.
Together with him let us cry to the Theotokos:
Rejoice, O Full of Grace,
The Lord is with You!
(Troparion, Tone 4)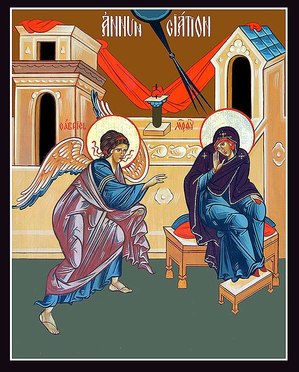 Indeed, today is the beginning of salvation history. As St Luke's gospel (1:26-38) reveals, and as other languages portray the Incarnation, we've received "good tidings." From the moment the angel's message was received positively by Mary cosmic history has never been the same. March 25 is the solemnity of the Annunciation to the Mary that she's be the Mother of God (the most Holy Theotokos). And it's Holy Week followed by Eastertide, the Church will observe this solemn occasion on April 8. Nevertheless, a word or two need to be said about the Annunciation.
Liturgical history tells us that there exists a 2nd century painting of the Annunciation in the catacomb of Priscilla. And more widely celebrated since the 4th century, the Christian community has observed the Annunciation as a solemn day of grace.
Ecclesiastical history bears witness to the Council of Toledo in 656 mentioning the Feast in Spain and then at the Council in Trullo in 692 indicating the Church there having a celebration of the Annunciation even though it was Lent. The Fathers of the Second Vatican Council spoke about the Marian principle of the Church as being fundamental to the life of the Church (see the conclusion of Lumen Gentium), even more important that the Petrine principles because what we believe to be true about the Incarnation.
On the Annunciation, the Knights of Columbus pray for the unborn children and the work of being pro Life.
The feast testifies that God fulfills His promise to send a Redeemer (Genesis 3:15): "I will put enmity between you and the woman, between your seed and her seed; he shall crush your head, and you shall lie in wait for his heel." What the prophets and teachers of the Law believed and taught the people of Israel, was given by Gabriel's announcement; and in the Christian dispensation the Fathers of the Church have taught that what is called "her seed" to refer to Jesus. Here is an unmistakable theological view that Jesus is the new Adam, the new tree of life, the new Law, the new Lawgiver, the new face of God.