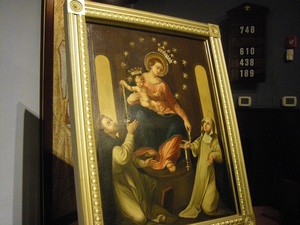 The missionary image of Our Lady of Pompeii is making the rounds the various parishes in the USA strengthening the faith of the people and evoking the confidence in Christ. Tonight, the Missionary Image of Our Lady of Pompeii was brought to the parish church named for the same in East Haven, CT. Thanks to Father Matthew R. Mauriello, pastor of Saint Roch Church (Greenwich, CT) and the coordinator of the US Marian Mission of Our Lady of Pompeii.
Father John Lavorgna, pastor of the East Haven parish welcomed the bishop, clergy and the lay faithful. Mass began to strains of "Santa Maria del Camino." Father John did a terrific job at bringing many people together for prayer and fraternity.
750 people prayed the Sacrifice of the Mass celebrated by the Most Reverend Peter Anthony Rosazza and 17 priests. Three of the priests present tonight were representing the Archbishop-Prelate of Pompeii Carlo Liberati. The faithful heard a letter sent to them by Archbishop Liberati and from the Pope via the Cardinal Secretary of State, Tarcisio Bertone, SDB. Bishop Peter did some parts of the Mass in Italian and others in English; he sang the propers of the Mass and the Eucharistic prayer.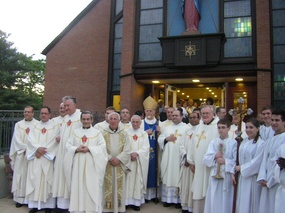 Following the Liturgy, several people prayed the Rosary, including members of the Third Order Dominicans. Because of a realization that the Rosary is gospel lived, it is known to cut off the head of evil. The Rosary connects us not only with God by way of meditating on His great of act of Love, but also the spiritual home of the Basilica of Our Lady of Pompeii with Pompeii, East Haven, CT.
The feast of Our Lady of the Rosary of Pompeii is traditionally observed on May 8. This feast of the Blessed Mother is recalled as result of the good work of Blessed Bartolo Longo (a man who gave his life to Christ --after a life of following spiritism and satanism. He became a Third Order Dominican and a member of the Order of Holy Sepulchre, an Apostle of the Rosary. Longo is also known for his famous Supplica, a prayer which sets one's heart on truth and reality of the Incarnate Word of God. Blessed Bartolo might be seen as Italy's equivalent of Saint Faustina. Longo's mission, which ought to be ours, "is to write about Mary, to Mary praised, to have Mary loved."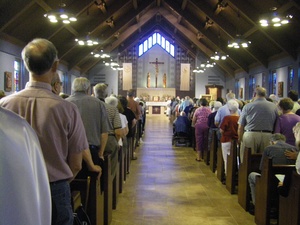 There's at least 8 churches in the USA named in honor of Our Lady of Pompeii: East Haven, CT, Chicago, IL, Tickfaw, LA, Baltimore, MD, Paterson, NJ, Vineland, NJ. New York, NY and Dobbs Ferry, NY.