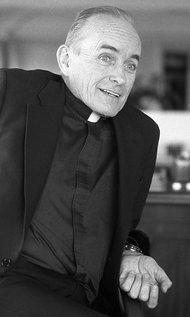 The famed Chicago priest, sociologist and novelist Father Andrew Greeley died on Thursday. He was 85 and in poor health since 2008. He died in his sleep.
The Mass of Christian Burial will be Wednesday, Noon, at Christ the King Church, 9325 South Hamilton Avenue.
Father Andrew Greeley was a priest for the Archdiocese of Chicago for 59 years. He assisted as priest on Chicago's south side.
With so many personal and professional accomplishments, Andrew Greeley's identity was that of a priest.
Peter Steinfels'
NY Times obit for Greeley
is worth a good read even if you disagree with Greeley's critical remarks about the Church. Steinfels brings out some interesting points about Father Greeley and the context in which he existed.
His autobiography is Confessions of a Parish Priest.
Mary, Queen and Mother of priests, pray for us.
Saint Andrew, brother of the Lord, pray for us.
Saint John Vianney, pray for us.