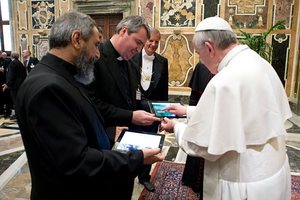 The Pontifical Mission Societies in the USA are expanding their work of proposing the Good News of Jesus Christ with the help of technology.
This new initiative of the new evangelization come with the help of the boss himself, Pope Francis. He unlocked the new App. Oblate Father Andrew Small assisted. The MISSIO App may be downloaded free wherever Apps are available.
Missionary work need not only be in foreign countries. Missionary work in the United States of America is a real need even today. There are people in the USA, in Connecticut, that have yet to hear and live "Good News" of Jesus Christ and experience the Lord's great love through the work and witness of the Catholic Church. Can each of us be motivated by the command of Jesus to "go, make disciples of all nations"?
While the Catholic Church in the USA is no longer considered as 'mission territory' by the Congregation for the Evangelization of Peoples, that is, we no longer depend on financial support and manpower from other nations, the fact is that we need to continue to propose to one and all that Jesus is The Way, The Truth, and The Life. A possible resource for us in Connecticut is the Propagation of the Faith, "One Family in Mission" (a new web site).
The Church in the USA has four groups help the "least among us" that are known as The Pontifical Mission Societies:
The Society of St Peter Apostle

Missionary Childhood Association

Missionary Union of Priests and Religious
2013 is the 151st anniversary of the death of the founder of the Society for the Propagation of the Faith, Pauline Marie Jaricot. With the Venerable Servant of God Pauline Jaricot let us contribute to the work of the New Evangelization, be that match that lit the fire of love and service of the Gospel of Jesus Christ.