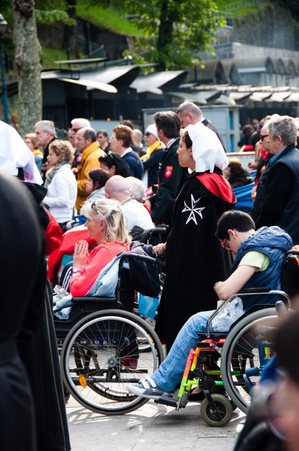 The 55th International Pilgrimage of the Order of Malta Lourdes, France has finished. It is reported that 6,500 people from 35 different countries --members of the Order of Malta, volunteers and pilgrims-- went to take care of 1,300 who live with illness as part of their daily life. The American Association has participated in the Annual Order of Malta Pilgrimage to Lourdes since 1986.
The official title of the Order of Malta is The Sovereign Military Hospitaller Order of St John of Jerusalem of Rhodes and of Malta - founded in Jerusalem on 15 February 1113 with a bulla from Pope Paschal II - is a sovereign subject of international law and a lay religious order of the Catholic Church. Matthew Festing is the 79th leader of the Order. The Order maintains bilateral diplomatic relations with more than 100 States, 18 official representations and permanent observer status at the United Nations, the European Union and numerous international organizations.
The Order of Malta is active in 120 countries, with 12 Grand Priories and Sub-Priories and 47 national Associations, as well as numerous hospitals, medical centers, day-care centers, first-aid corps and specialist foundations. The American Association is headquartered in New York City, and founded in 1927.
I have great affection for the Order of Malta, their history and the work they do for the faith and the sick. Each year people seek divine help through a pilgrimage to the Shrine of Our Lady of Lourdes to pray, to go into the healing baths and to enjoy the friendship of others living with illness. The witness of these people, the healthy and the ill, is a tremendous boost to my own struggles in life. Friends of mine in the Order give good example of what it means to live the Beatitudes and the Works of Mercy, spiritual and corporal.
The American Association of the Order of Malta, like their counterparts in other parts of the world, take time for their own conversion, learning the Catholic faith, helping the ill, bringing Holy Communion to the hospitals, prison ministry, working their parishes, and healthcare work in other countries like Haiti.
Our Lady of Philermo, pray for us.
Saint John the Baptist, pray for us.
Blessed Gerard Tongue, pray for us.