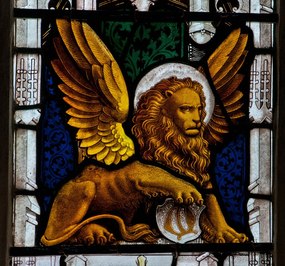 We know Jesus Christ through the mediation of others and if fortunate, to a personal relationship. On the former, we honor today the author of the first of the gospels. Saint Mark's testimony to who Jesus is, and what he means to God's promise to be with us.
The meditation today brings us to guidance we share in for our salvation.
"... the words of our Risen Jesus forbid us to fear such a calamity. He did not say to his Apostles: "Lo! I am with you even to the end of your lives;" but Lo! I am with you all days, even to the consummation of the world. So that those to whom he addressed himself were to live to the end of the world! What means this, but that the Apostles were to have successors, in whom their rights were to be perpetuated, successors whom Jesus would ever assist by his presence and uphold by his power? The work founded by a God, out of his love for man, and at the price of his own precious Blood, must surely be imperishable! Jesus, by his presence amidst his Apostles, preserved their teaching from all error; by his presence he will also, and forever, guide the teaching of their successors."
The Liturgical Year
Dom Proper Guéranger, OSB