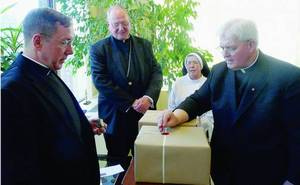 The process of becoming a saint, if you are not a John Paul II or a Mother Terese can take some time. When I heard the news of the completion of US side of Rose Hawthorne's cause for canonization was made, the other day from a Dominican priest friend, a "praise God" rang out! The last significant ecclesial judgement made on the sanctity of Rose Hawthorne was in 2003 when she was declared to be a Servant of God.
Servant of God Rose Hawthorne (1851-1926), was founder of the Dominican Sisters of Hawthorne, led unusual life as a wife, mother, and convert. Rose was born in Lenox, MA, and died in Hawthorne, NY. In religion she is known as Mother Mary Alphonsa, OP. Rose worked to comfort the poor dying of cancer. The diocesan phase for cause of canonization was opened by Cardinal Edward Michael Egan. Rose Hawthorne was declared Servant of God on February 4, 2003. Father Gabriel B. O'Donnell, OP, is the postulator. On 9 April, the necessary documentation signed by the archbishop of New York, Timothy Cardinal Dolan. On 20 April 2013 Father O'Donnell will be delivering this phase concerning Rose' heroic virtue and the writing of the historical report to Rome's Congregation of Saints. For more info: www.hawthorne-dominicans.org
The Catholic New York reports the story.
Hawthorne is one 10 people with connections in the State of New York who are being considered for sainthood.