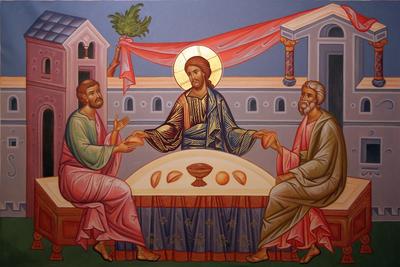 What was true and real for the Apostles and disciples of the Lord 2000 years ago IS TRUE AND REAL for us today, right now. At least that's what I believe. The Emmaus event is not an abstract account but a true encounter with a clear direction and goal: knowing that the Lord Jesus, once crucified and now risen, is alive as He said. I find myself asking:
Can you say with the same degree of certainty as the disciples of Emmaus came to understand, that it is a true joy to walk with others in and outside the Church over the years in light of the presence of the Risen Lord? Do you really believe it is your vocation to recognize the Risen Lord in the breaking of the Bread, and to help others to the same? How do you account for the joy in knowing the Lord and accepting the reality of the Lord's enduring Presence in the Eucharist? Are ready to enter into worship upon recognizing the Lord at the Supper of Emmaus?
The question becomes for the Christian: what do you really want from the Risen Lord?