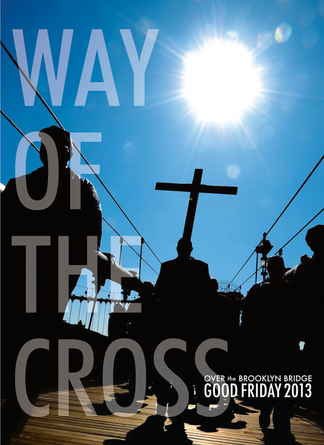 Since 1996, Communion and Liberation, an ecclesial movement in the Catholic Church, has organized the Way of the Cross over the Brooklyn Bridge. With God's grace, year after year the event has grown -- thirty people became a hundred, two hundred, three hundred, four hundred, a thousand, until, at last year's Good Friday thousands New Yorkers followed the Cross all the way to Ground Zero.
It thus gives me great joy to invite you to participate in this year's Way of the Cross over the Brooklyn Bridge to Ground Zero. The event begins at 10am on Good Friday - March 29, 2013 - at St. James Cathedral-Basilica, 250 Cathedral Place (corner of Jay and Tillary Streets) and it will conclude at 1:30pm so the participants can attend the Good Friday service in their parish. The cathedral can be reached by taking the A, C, or F train to the Borough Hall Stop in downtown Brooklyn.
After a station on the Brooklyn Bridge, the procession will follow the cross to a third station at City Hall Park in Manhattan, and a fourth station near Ground Zero. The final station will be at St. Peter's Church on Barclay Street, concluding at 1:30 pm.
At each station, there will be readings from the Passion, a meditation, a reflection and hymns. All are invited to participate.
For more information, please call Communion and Liberation at (212) 337-3580 or visit the website.