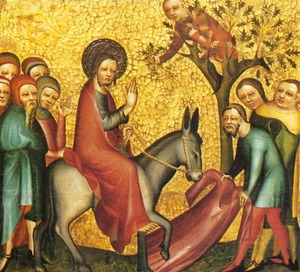 We hear of a critical experience of the Lord who enters gloriously into Jerusalem changing once again all of history. Salvation history known in Jesus crucified and risen rides into our lives on the back of a donkey. The King of kings, the Messiah of the world, has made an ass of himself. The gospel reveals something unique about Jesus and the way He uses created things to announce the Kingdom of God.
We want to meet Christ this week. Today, Palm Sunday, we see a donkey the sign of derision. But why is a donkey important to our walking in faith, building up the Church and confessing the Divine Presence, why is this animal critical to our own personal conversion?
Bishop Hugh Gilbert, OSB, bishop of Aberdeen, Scotland,
tells us about Christ, the donkey and our willingness to become useful for Christ
.