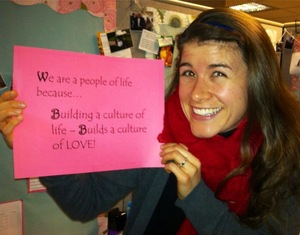 Let's agree to follow the promptings of the Church and build a culture of LOVE.
Perhaps we can gather to have time for mental prayer, or to pray the Rosary and the Chaplet at 3pm.
From the US bishops we have this Mass rubric:
In all the dioceses of the United States of America, January 22 (or January 23, when January 22 falls on a Sunday) shall be observed as a particular day of penance for violations to the dignity of the human person committed through acts of abortion, and of prayer for the full restoration of the legal guarantee of the right to life. The Mass "For the Preservation of Peace and Justice" (no. 30 of the "Masses for Various Needs") should be celebrated with violet vestments as an appropriate liturgical observance for this day.
General Instruction of the Roman Missal, no. 373