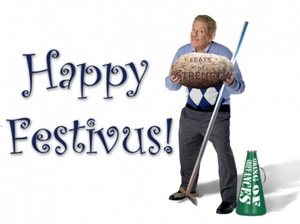 TODAY IS THE SOLEMNITY OF FESTIVUS! It is a Holy Day of Obligation. Be sure to go to Holy Mass!!!
May I be the first to wish all of you a warm and happy and healthy and prosperous Festivus!
My friend Basil composed what would be an opening collect:
O Lord, you have given us the great feast of Festivus to remind us that despite sending your only begotten and eternal son to redeem mankind, your people still prove to be a HUGE disappointment to just about everyone, including yourself I'm sure. We tell you this through our Lord Jesus Christ your son, who lives and reigns with you (because after 33 years down here, we ran him out of town) and the Holy Spirit, one God, forever and ever, Amen.
Another friend, Dominic composed following alternative:
Having received, O Lord, from your abundant kindness this annual memorial of Festivus, we humbly beseech you, that, mindful of the saving mission of your Only-Begotten Son for the redemption of mankind, even as we prove a disappointment to ourselves beyond due proportion, so also we do to you as well. Through the same our Lord Jesus Christ, your Son, who etc.
Popularized by Seinfeld in 1997, Festivus is a another way for some to celebrate a season. Supposedly it rejects the commercialism of the season. It was invented in 1966 and includes feats of strength. You can make a donation to the Human Fund.