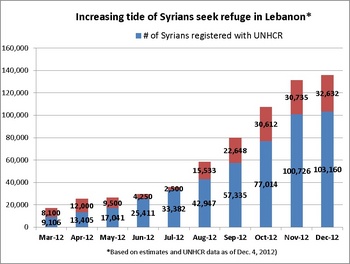 According to UNHCR data, Lebanon is currently hosting over 135,000 Syrians, not including many lucky enough to find work who haven't sought to be registered.
With AVSI, you can help by visiting this link.
Part of your Advent charitable giving, please consider making a donation to AVSI for this good work, others in the USA and internationally.
AVSI-USA is a non-profit of the international AVSI network, supporting human development in 38 countries, with special attention to each human person, according to Catholic social teaching.
The Mission of AVSI is "To support the AVSI network by leveraging resources and contacts in the U.S. in order to enhance and broaden the achievements of member organizations in promoting human dignity in developing countries. The Association of Volunteers in International Service is an international not-for-profit, non-governmental organization (NGO) founded in Italy in 1972. AVSI's mission is to support human development in developing countries with special attention to education and the promotion of the dignity of every human person, according to Catholic social teaching. The AVSI-USA office was established in 2001."