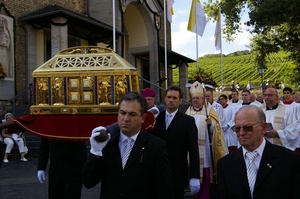 Today, the Holy Father proclaimed two new Doctors of the Church, the highest honor for saints because of their exemplary lives and insightful doctrine.
Saint Hildegard of Bingen

(1098-1179) is the fourth woman

Doctor of the Church

. Saint Hildegard was a 12th century German Benedictine nun, writer, composer, philosopher, polymath, and mystic. The sainted abbess was also the founder of several monasteries. On 10 May 2012, Pope Benedict formally proclaimed her a saint by an equivalent of canonization, and therefore added her to the Church's roster of saints (Roman Martyrology) extending her liturgical feast throughout the world.
Pope Benedict also proclaimed

Saint John of Avila

(1500-1569),
a Doctor of the Church. He's known as the
Apostle of Andalusia, priest, reformer, educator, mystic, author, and patron of the early Carmelite Reform and the Jesuits.
May Saints Hildegard and John of Avila bless the work of the Synod of Bishops on the New Evangelization.