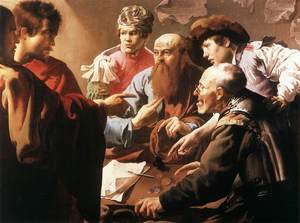 Last Sunday many of the communities of Communion and Liberation around the USA met for a "Beginning Day". We met in NYC to hear the national leader of CL, Chris Bacich, make a presentation, to listen to Father Julián Carrón's presentation and to pray the Mass. About 100 CL in NY attended. Notes on the Day later. But in the meantime, expect a journey, not a miracle; journey in faith is made in experience of what Jesus gives us to live.
Father Julián Carrón's text is available here:
Life as Vocation 2012 eng.pdf
Our work in the School of Community and in the life of the community only is made possible if we beg the Holy Spirit to guide our steps. Our prayer, then, is Veni, creator Spiritus, mentes tuorum vista, imple superna gratia, quæ tu creasti pectora.