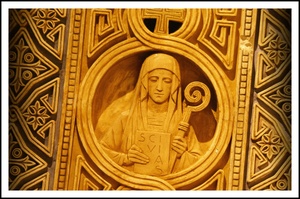 O Lord, you were generous with your gifts of grace to the virgin Hildegard. By following closely her example and teaching, may we pass from the darkness of this life into your marvelous light.
Saint Hildegard (1098-1179) was a Benedictine of great learning ( a true polymath), a holy woman who was known for her visions, prophesies, poetry and spiritual guidance. Some have likened her to Dante and William Blake. She was given the title of the Sibyl of the Rhine. Since the 15th century Hildegard's name was in the Roman Martyrology but was not officially canonized. On May 10, 2012 Pope Benedict XVI gave the entire Church the liturgical memory of Saint Hildegard (the equivalent of canonizing her); the Pope stated that on October 7, 2012 he will name the Saint a Doctor of the Church.
We pray for the Benedictine Congress in Rome that begins today and goes until the 25th through the intercession of Saint Hildegard.