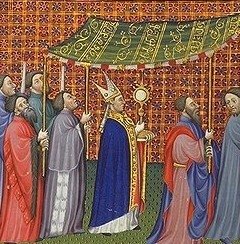 The feast of Corpus Christi has a rich fare to savor: prayers, Bible readings, music, and poetic texts. The point of the Church offering us this opportunity to honor the Eucharistic Presence is to extend in our lives a deeper grace given in Communion theology, to have a closer with the Lord in His promised hundredfold. It is, of course, a deepening in our lives what the Lord Himself did and gave to us on Holy Thursday with Eucharist and the priesthood.
The Sequence (the poetry which follows the second lesson at Mass and directly precedes the Alleluia verse), Lauda Sion Salvatorem, is ideally fitting for the sacred Liturgy. Google this masterpiece of poetry expressing theology in a way that stimulates prayer and deepens one's faith.
The English priest Father Ronald Knox offers a perspective on what we're doing in observing the great feast of the Lord's Body and Blood. The following is taken from his meditation on Corpus Christi:
Like the Jewish Temple, the Christian altar is the rallying point of God's people. The whole notion of Christian solidarity grows out of, and is centered in, the common participation of a common Table. The primitive Church in Jerusalem broke bread day be day from house to house; its stronghold of peace was not any local centre, but a common meal. Christian people, however separated by long distances of land or sea, still meet together in full force, by a mystical reunion, whenever and wherever the Bread is broken and the Cup blessed.