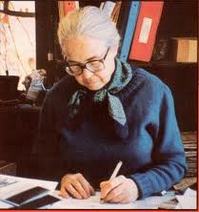 Among the many things we can recall today, one of them for me is Adé Béthune who died on this date in 2002. As I mentioned in a
Communio
blog post a few years ago, Adé was an Oblate of Saint Benedict of
Portsmouth Abbey
(Portsmouth, RI) and a liturgical artist, thinker and musician.
I find it sobering to pray for those who gone marked with the sign of faith, not only because it is a noble and holy Catholic tradition, but the practice affords me the opportunity to truly remember the person. Adé Béthune allows me this possibility today because of her Benedictine and liturgical connections but most of all she was a grand person.
A past post on Adé can be
read here
and her obit is posted
here
.
May the Blessed Virgin Mary and All Benedictine Saints and Blesseds watch over Adé Béthune.