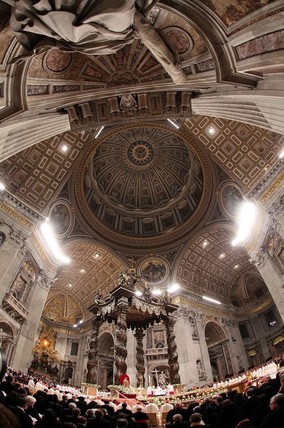 The Papal General Audience given in the Paul VI Hall today, Benedict spoke of the desire for unity that our Lord expressed in his priestly prayer at the Last Supper (John 17):
Against the backdrop of the Jewish feast of expiation Yom Kippur, Jesus, priest and victim, prays that the Father will glorify him in this, the hour of his sacrifice of reconciliation. He asks the Father to consecrate his disciples, setting them apart and sending them forth to continue his mission in the world. Christ also implores the gift of unity for all those who will believe in him through the preaching of the apostles.
Sacred Scripture and sacred Tradition and now echoed by Pope Benedict, believes that Christ's priestly prayer is understood as His instituting the Church, the community of faith, the communio found explicitly in a church that is one, holy, catholic and apostolic. Taking the Pauline manner of thinking, we are disciples of Christ who, through faith in Christ, are one and share in His saving mission:
In meditating upon the Lord's priestly prayer, let us ask the Father for the grace to grow in our baptismal consecration and to open our own prayers to the needs of our neighbors and the whole world. Let us also pray, as we have just done in the Week of Prayer for Christian Unity, for the gift of the visible unity of all Christ's followers, so that the world may believe in the Son and in the Father who sent him.