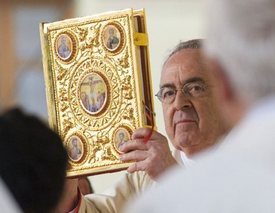 The 200th anniversary of birth of
Saint John Nepomucene Neumann
is being celebrated in his homeland, today called the Czech Republic. Here's the
story in Czech
. Cardinal Justin Francis Rigali, Archbishop of Philadelphia, is the Pope's special envoy. His special connection with the Saint is that John Neumann was the bishop of Philadelphia and is buried in Philadelphia.
Pope Benedict's letter of credence for Cardinal Rigali's mission as a papal representative
may be read here
.
Benedict notes Saint John's work included spiritual and social progress of the faithful, assistance with counsel and charity and he provided for Christian education. He's known as the first US bishop to organize Catholic education.
You should also know that Saint John Neumann is the first bishop of the United States to be canonized. He's not the first American saint and nor was he native born, but he is one of us. As a grammar school student my dad and I visited the shrine of Saint John Neumann which sticks with all these years later.
Saint John Neumann, pray for us.