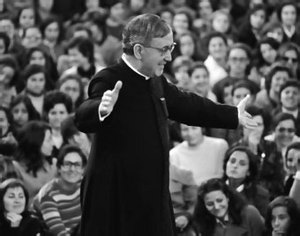 "True shepherds, after my own heart,
I'll give you," says the Lord, "Who'll feed your souls on knowledge and
Sound teaching of my word."
Thus did Josemaria live, That all might know Christ's light, Within the holy work of God, And work for Him in might.
O Father, Son, and Spirit blest, Eternal Three-in-One, Your church this hymn of joy will raise, From dawn to set of sun.
The Church liturgically commemorates a significant 20th century priest and founder of a movement of laity and priests, Saint Josemaría Escrivá (1902-75). Saint Josemaría's call to holiness and friendship with the Lord ought to be an example for all people. His movement, Opus Dei, teaches us that holiness is possible through our everyday life: our work, study, family and friendships.
J. Michael Thompson
Copyright
©
2010, World Library Publications CM MORNING SONG, McKee