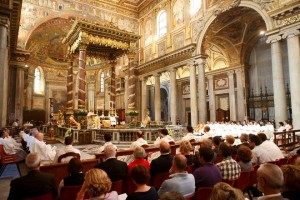 Tremendous joy exists when a man is ordained for the service of Christ and the Church.
Let's live ''the glory and joy of the priesthood in the service of Christ and His Mystical Body' in the communal life 'experiencing the help of Christ in our existence, calling all the brothers to a continual configuration that is always more profound to you your person."
Saturday, June 25, was a day of joy for 8 religious men of the
Fraternity of Saint Charles Borromeo
were ordained priests and deacons by His Excellency, Archbishop Rino Fiscihella, President of the Pontifical Council for Promoting the New Evangelization. Monsignor Massimo Camisasca, founder and Superior General of the Fraternity presented his spiritual sons and brothers for the Lord's service.
The Fraternity now has 2 new priests (Patricio Hacin and Christoph Matyssek) and 6 deacons (Emmanuele Angiola, Diego García Terán, Simone Gulmini, Tommaso Pedroli, Ruben Roncolato & Luca Speziale).