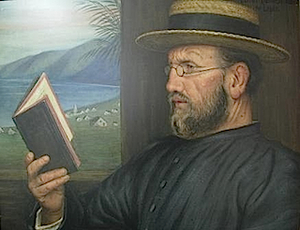 In August 1873, to his Superior General:
Divine Providence, having compassion on the unfortunate, has thought fit to look upon your unworthy servant to care for the spiritual needs of a well-known leprosy hospital that our Government had to establish to preserve the whole archipelago from disease. Thus, it is in my role as pastor of an unusual parish of eight hundred lepers, nearly half of whom are now Catholics, that I take the liberty to write to you these lines.
November 9, 1887, to his brother, Father Pamphile:
As you know, it has been already quite a while that Divine Providence chose me to become a victim of this repugnant disease of ours. I hope to remain eternally grateful for this grace. It seems to me that this disease will shorten and narrow the way that will lead me to our dear homeland. In that hope accepted this disease as my particular cross; I try to bear it as did Simon of Cyrene, following in the footsteps of our Divine Master. Please assist me with your good prayers, so as to obtain for me the strength of perseverance, until I reach the summit of Calvary.