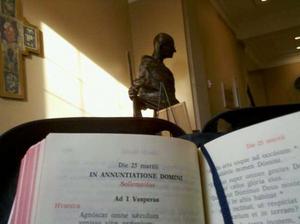 Lenten observances are varied: you can fast, pray the Way of the Cross, do charitable acts, give alms, spend time in contemplative prayer before the Blessed Sacrament, do lectio divina, pray the rosary, and the like. The possibilities are limitless. You might know, Catholics have a lot in their own mystical tradition to deepen a relationship with the Blessed Trinity. And some real good stuff, too. So much so, that a Catholic doesn't have to stray far from orthodox Christianity for prayer.
Doubtful, however, is the spending any kind of energy on "Gandhi, Peace and Nonviolence" an acceptable alternative for Catholics. Especially when knowledge of the Catholic tradition is relatively low, even among theology students. But that is what the Boston College School of Theology and Ministry's Lenten focus was today. The idea is OK. Wait. It was pretty mediocre. Why not reflect upon peace and nonviolence using music and select readings? At a Catholic school of theology and ministry where students are paying tuition in order to be trained to be better Catholics, superb lay Catholic leaders and teachers, and perhaps even priests, Gandhi just doesn't fit during Lent.
I wonder if anyone at a Jesuit school of theology and ministry ever thought of focusing on one of the great spiritual fathers and mothers of the Church --Augustine, Ephrem, Aquinas, Bonaventure, Lawrence of Brindisi, Hilary of Poiters, Loyola, Gertrude, Tauler, Marguerite d'Oingt, Catherine of Siena, Giussani, Lubich, Benedict XVI-- for Lenten prayer and readings? Then, I have to wonder if Gandhi is BC's type of Catholic and the list above are too obscure for mainline believers. Are these people too Catholic? Perhaps Gandhi is the new patron saint of the liberal-blue hairs and they haven't told the rest of the Church yet? Curious to know what Sister Quinn was thinking.
This is not only a question of Catholic identity at a supposed Catholic institution of higher education, but a question of formation for the proclamation of the Kingdom of God. It is a question of helping each other know their destiny in Jesus Christ.